Membership
Protecting Mote Park - not only its pleasant surrounds and wildlife, but as a healthy resource to adults and children - entails more and more work each year.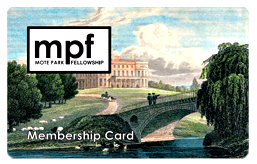 Our volunteers put in hundreds of hours each year but there are some things that only money can buy.
We rely on memberships to help continue our conservation and preservation work within Mote Park.
Introductory Offer - Memberships Only £20
By joining us as an associate member, you not only help support the park but we've also put together a range of benefits to offer you superb value for money while encouraging you to experience all that Mote Park has to offer:
Membership Fee - £20/year
For only £20 a year (£14 for concessions), you can join us as an associate member of the Mote Park Fellowship. To show you just how important your donation is and how it is used, you will receive all of the benefits below.
Segway - 20% Discount
All members receive a 20% discount code used with telephone bookings for the Segway experience with Segway Events.
Watersports - 50% Discount
The Mote Part Watersports Centre operates on the lake within the park and runs a wide variety of activities including boating and scuba diving. All members can receive a 50% discount on all course bookings.
Bat Walk - Free Guided Walk
Our bat walks are very popular and always sell out fast. Taking place in the evening, they involve the tracking of bats using radar to learn about their night time habits. Members go free with a paying adult.
History Talk - Free History Talk
Our history talks are a great way to learn more about the history of Mote Park from one of our local experts. Members go free with a paying adult.
Committee Meetings - Invitation
You will be invited to join our committee meetings should any significant discussion or vote be taking place outside of our AGM.
AGM - Invitation
All members are invited to join in, or just sit in, on our Annual General Meeting where we discuss the groups position, its achievements for the year gone and what we hope for in the coming years.
Event Prize Draw - Win Free Tickets
Events hosted in Mote Park can offer us free tickets to our members to help support our group. Members will automatically be entered into these draws to win pairs of tickets.
Newsletter - Free; Delivered Quarterly
Each quarter, we'll send you a newsletter on what we've been up to and we plan to get up to! Our newsletter is a great way to keep in touch with ongoing projects, how you can help and what events are going on in the park.
Help Conserve & Protect Mote Park and its Wildlife
Lastly, but certainly not least, as a member you are playing a supporting role in the conservation and protection of the environment within Mote Park. It should not be underestimated just how vital a role you play by joining as a member.