Waterlife in Mote Park
The River Len flows in to Mote Park from the village of Lenham and Leeds Castle to the East, providing the water that collects to form the 30 acre lake in the park.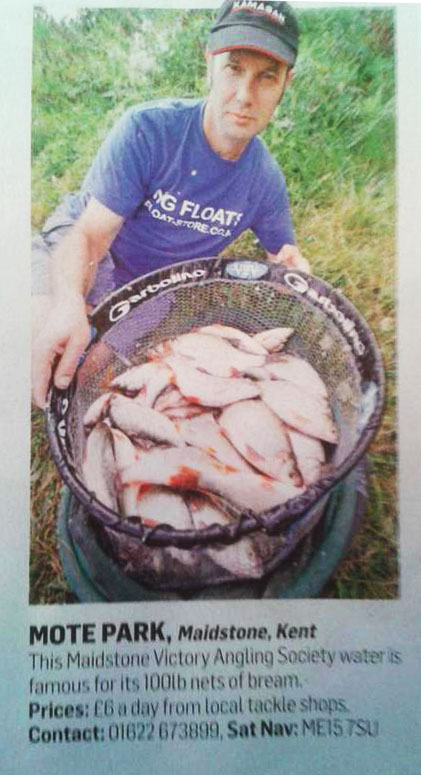 The steady flow of water, and the hard work of volunteers, ensures that the lake is an attractive habitat for all forms of wildlife, in particular fish.
Renowned nationally for its 7lb+ bream and quality roach, the fish in Mote Park are often found in large numbers. Through hard work, carp have joined these species along with pike, tench and perch.
We are very proud that the quality and quantitiy of life in the lake is recognised nationally; to the right is an article from the Improve Your Course Fishing magazine in which Mote Park is listed in the Top 10 Park Lakes To Try.
The Maidstone Victory Angling Society operate fishing licences in the park with details available on our Things To See And Do page.
As well as fish under the surface, many birds use the lake on the surface.
The area beside the boating house is a popular spot to feed these birds, but please try to avoid feeding birds bread as this can harm them.
White bread has no nutritional value to birds and they often fill up on bread leading to infection and disease through malnutrition before death.
Left over bread on the lake can also affect the chemical and bacteriological content of the water, as well as encourage pests.
If you enjoy feeding birds, please bring grains, oats, rice, birdseed, peas or even left over salads and vegetables!